Maps Show the Need for Church Planters in Japan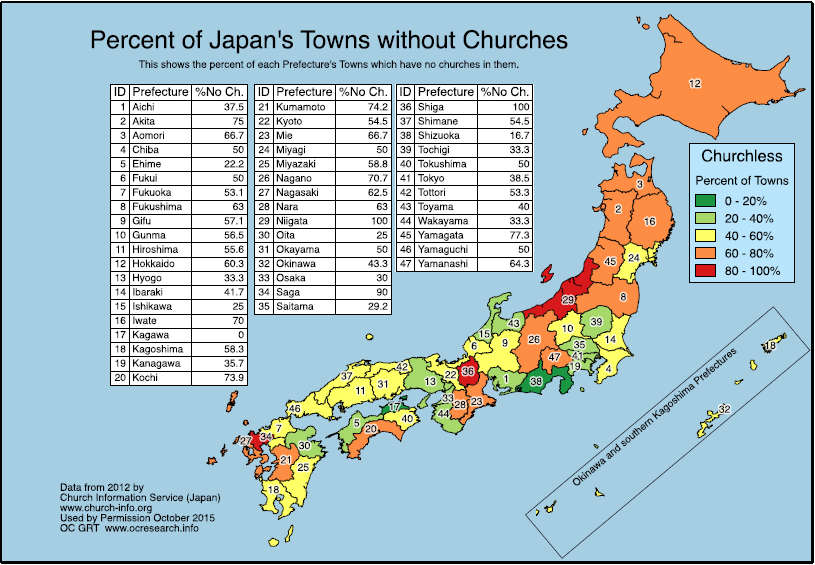 In October of 2015, the Global Research Team of One Challenge assisted church leaders in Japan by producing maps that show the state of Church in Japan and highlight the work that remains to disciple the whole nation. Japan is one of the least reached nations in the world. Just 0.43% of the Japanese are church members and about half of these regularly attend church. This means over 126 million people in Japan most likely have not understood the Good News about Jesus Christ.
One of the more intriguing maps produced by the GRT shows the percentage of cities and towns by prefect that do not have a church. In 29 of Japan's 47 prefectures at least 50% of the towns do not have a church. Two prefectures have no churches at all. Just one prefecture has a church in every town. Thus we can conclude that not only have a large majority of those in Japan never heard the Good News about Jesus Christ, but they have little opportunity to hear the Good News, since there are so many towns that do not have a single Church. This particular map, then, highlights the areas that need workers to preach the Good News.
How then will they call on Him in whom they have not believed? How will they believe in Him whom they have not heard? And how will they hear without a preacher? How will they preach unless they are sent? Just as it is written, "HOW BEAUTIFUL ARE THE FEET OF THOSE WHO BRING GOOD NEWS OF GOOD THINGS!" Romans 10:14,15 NASB
Other maps for Japan can be viewed at the Global Church Planting Network's website.