The Power of Information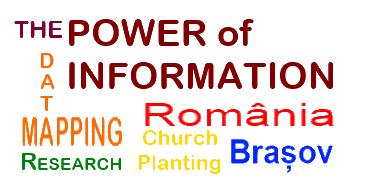 The following story demonstrates the power of the right information placed in the right hands at the right time and therefore also illustrates why OC places so much emphasis on research.
What does it take to trigger an effective church-planting movement? Sometimes all it takes is a single piece of paper and the inspiration of the Holy Spirit! Ask the church planters in Brasov county in Romania, and they'll tell you how one piece of paper launched their vision.
After the 1989 revolution, church leaders in Romania's Brasov county strongly desired to plant churches, but they lacked a clear vision and a comprehensive strategy. Although several churches had been planted, many more were needed, and the task looked daunting. In 1996, a missionary with OC International came to Romania to promote a nationwide state-of-the-church research project, and he chose to research Brasov county as an example of what could be done through research to help the whole country. He produced a series of maps that showed the locations of the various types of churches as well as those areas without churches. Copies of the map were left with local church leaders, and the missionary returned home hoping that his work would bear fruit.
Several months later, Valerica Tudor, a leader in the Brethren churches in Brasov, happened to see one of the maps. He immediately grasped its significance, and with tears of joy, he expressed his amazement that a foreigner could understand his region better than anyone in Romania! Valerica had never thought of making a map like that, but he saw how it clearly presented the needs for church planting in his county.
That map became a rallying point for church-planting efforts in Brasov county. Valerica called together leaders from the various churches in the area, and they started meeting to plan and pray together. Church planting became their ultimate goal, and they organized their ministries to contribute toward that goal. The meetings included leaders from different denominations who had rarely met together, but the goal of planting churches gave them a common ground and enabled them to work and fellowship together.
Since those first meetings in 1997, the Holy Spirit has greatly blessed the efforts of these visionary leaders, and much has been done. The county has been more thoroughly researched, and a new map has been prepared every year to keep track of church-planting progress. Twelve new churches have been planted, and about 20 cell groups have been started in villages and are on their way to becoming churches. In another dozen villages Christians have been identified who are willing to start cell groups.
The leaders who are interested in church planting continue to meet every month for prayer, Bible study, planning, and reporting. The county has also been divided into zones, and the men in each zone meet together and work together to see their areas filled with churches. Plans are made quarterly, and the men hold each other accountable to do the work. A list has been developed of the 89 villages that do not have an evangelical church, and that list is used to motivate churches to plant additional churches and to direct the church-planting efforts. The men have prepared brochures to encourage prayer support for their church-planting efforts, and they regularly visit churches to explain the ministry and to elicit prayer and financial support.
The response from the churches has been enthusiastic. One church asked why the men had not brought them this information earlier! Another asked for periodic updates on the progress of the project. Several churches have contributed financially to the work.
That first map is now hopelessly out of date because so much work has been done in the last few years. But it remains in a place of honor on Valerica's wall as a reminder of how God can use accurate information and a simple tool to motivate His people in a powerful way to do His work.