"Prayer Release" for the 8th Lausanne International Researchers' Conference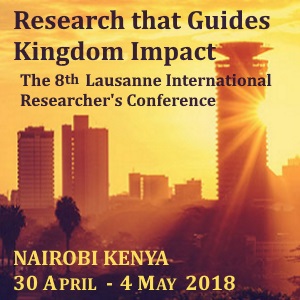 The Lausanne Movement, The Movement of African National Initiatives, the WEA-MC Community of Mission Information Workers, and OC International are jointly supporting the 8th Lausanne International Researchers' Conference, which will be held 30 April through 4 May 2018 near Nairobi, Kenya. The theme of this gathering is "Research that Guides Kingdom Impact" and its purpose is to connect influencers and ideas as they relate to church research for global mission. Presentations will focus on research to help the church increase its effectiveness in working toward the Lausanne Fourfold Vision of the Gospel for every person, an evangelical church for every people, Christ-like leaders for every church and Kingdom impact in every sphere of society.
Would you please pray for the conference's 100+ registered participants and its thirty-five presenters?
Intercede for the many who are still waiting on the Lord for adequate funding to attend. Ask the Lord to bless this time with health and safety, fresh ideas, loving interactions, and new and renewed callings into ministries of church and mission information work.