A Cry for Intimacy: Insight for Training Christian Leaders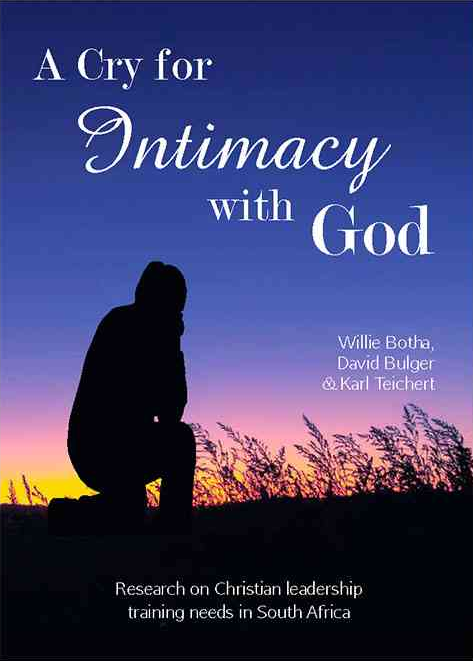 What are the training needs of South Africa's Christian leadership? The need for training Church leaders in South Africa has been apparent for many years, but an accurate and comprehensive picture of the needs facing Christian leaders across South Africa has previously never been adequately researched… until now!
A Cry for Intimacy documents the responses from 800 South African pastoral leaders. OC workers in South Africa helped facilitate this extensive research project conducted by TOPIC (Trainers of Pastors International Coalition) Southern Africa involves ten years of scientifically verifiable research. Authors Willie Botha, David Bulger and Karl Teichert provide vital information for the future of the church in South Africa. It answers a number of key questions, including what gaps exist and what urgent needs face Christian leaders in various locations, denominations and cultural segments. It lays a critical foundation for addressing these needs and provides stimulus for further research.
The surprising discovery of the research was that the greatest felt need of South African Church leaders was intimacy with God. This was mentioned twice as often as the next felt need.
This study is also valuable for those not working in Southern Africa, as it provides an example of applying research to the equipping of Christian leaders.
There is a critical need to know your students.
Pastoral trainers and mentors will appreciate chapter 6. The key point of this chapter is "There is a critical need to know your students" (page 90). This particular research brings to light different the felt needs of South African Church leaders based on gender, age, education, experience and other demographics. However reading this chapter should inspire anyone who equips Christian leaders to consider the needs of people he or she interacts with at a deeper level.
Mission information workers will be particularly interested in chapters 2-5, which provide a detailed description of how this research project was organized and carried out. This information could serve as a useful example for gathering, analyzing and applying information to empower Christian leaders in your area of ministry.
These are some of the questions the research project was designed to answer:
What types of training do Christian leaders say they need?
How do those needs vary, based on age, gender, economic background, Christian affiliation, level of involvement, etc.?
What type of training is most needed?
How important is continued leadership development?
What are some of the personal challenges facing leaders and their communities?
How do pastoral leaders believe other leaders in the Church need to be trained?
How would you answer these kinds of questions for the area in which you serve?
You can find out more about A Cry for Intimacy at: www.ocafrica.net.